CAMCO Hydrogen/Inert Furnaces
Choose from Twelve Standard Furnace Models for Your Brazing Applications
CAMCo offers a large range of standard hydrogen/inert furnace models, all equipped with the same outstanding user-friendly control features.
Such a wide choice of furnaces allows CAMCo customers to select the perfect size furnace for their applications, including small, economical units for R&D or start-up production requirements.
As production needs increase, CAMCo customers can easily move up to a larger unit and hot zone with the same easy-to-use programming features and process controls.
Automatic and User-Friendly Features
CAMCo customers prefer the ease of using a CAMCo furnace because:
All our furnaces are fully automatic. One button push starts the run. Automatically it will purge, process gas fill, ramp to temperature and soak, bubbler for humidification of process gas, cooldown and post purge.
All furnaces are ergonomically designed for friendly loading
All furnaces feature user friendly programming
Paperless Chart Recorder
Sight glass for calibration melts
Equipment on casters to roll easily into place
High Performance and Low Maintenance
CAMCo furnaces are built to last and designed for high performance and low maintenance. Only a CAMCo furnace can provide efficiency benefits like these:
Reliable results with superior quality controls
19 Programs - 20 segments per program
Increased profitability from multiple runs per day
High yield with fewer rejected parts
Low maintenance and less down time
Reliability & Safety Features Protect the Operator and Equipment
Safety and reliability are always important concerns. All CAMCo furnaces include state-of-the-art safety & reliability features, including:
Low Coolant Flow
Low Gas Pressure Switches
Purge Assure Circuit
Panel Interlock
High Cabinet Temperature
Thermocouple break protection (Thermocouple burn-up) assures that heating power is removed from the furnace in the event of sensor failure
Overtemperature indication is read on a separate control module from the monitor thermocouple. This overtemp alarm causes the heating elements to shut down as a further backup.
Hydrogen is prohibited from entering the system and heating cannot begin until the chamber cover is closed, sealed and purged. At the end of a programmed run the chamber is inhibited from being opened until the work has cooled to a pre-defined safe temperature.

A Purge Assure Circuit provides an internally set minimum timed Nitrogen purge regardless of the program status whenever power or the program is interrupted.
CAMCo Warranty & Service Advantage
CAMCo has been making quality furnaces for over 25 years.
We provide and take pride in our impeccable service.
Replacement parts are stocked for immediate repair.
We provide the best warranty in the industry.
Many options available including Computer Controls, Extension Table, Cable Hoist, Dewpoint Monitor, Vacuum Purge, Tower Indicator Lights, Survey Thermocouples, etc.
CAMCo Hydrogen/Inert Furnace Models:
SMALL MODELS (220V 1PH)
G Class Furnaces - Tabletop Models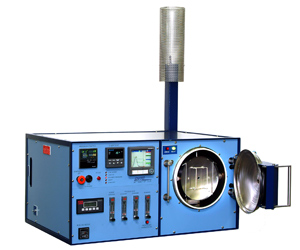 CAMCo G Class furnaces are ideal for schools and R&D departments because of their small, efficient size and low power requirements.
Our Model G furnaces carry a CE marking for EU compliance.
Temperature Range: 1200° C to 2000° C
Hot Zone: 5"W x 5"H x 10"D
Frame dimensions: 36"W x 26"D x 21" H
Work Zone Size

Max Temp

5"W.x5"H.x10"Deep

1250C/2280F
5"W.x4"H.x10"Deep

1500C/2700F
6" Dia. X 10" Deep

1600C/2900F
4" Dia. X 8" Deep

1800C/3250F
4" Dia. X 8" Deep

2000C/3600F
MEDIUM MODELS
B Class Furnaces
Useful for most applications the B Class models are true work horses. Excellent for applications ranging from wet metallizing to dry stainless steel brazing.

Temperature Range: 1200° C to 2000° C
Hot Zones from 12"Dia. x 18"H
Frame dimensions: 44"W x 28"H x 50" D


Work Zone Size

Max Temp

12" Dia. X 18" Deep

1250C/2280F
12" Dia. X 18" Deep

1600C/2900F
10" Dia. X 14" Deep

1700C/3100F
10" Dia. X 14" Deep

1800C/3250F
8" Dia. X 12" Deep

2000C/3600F
LARGE MODELS
J Class Furnaces


This furnace is our largest model and is great for large items and high production of smaller products. Excellent for applications ranging from active metal brazing to clean firing electron tube parts. This furnace is available with up to a 72" tall hot zone.

Temperature Range: 1200° C to 1600° C
Hot Zone from 18"D x 30"H
Frame dimensions: 54"W x 34"D x 121" H


Work Zone Size

Max Temp

"18"" Dia. X 24"" H."

1250C/2280F
"18"" Dia. X 48"" H."

1250C/2280F
"18"" Dia. X 30"" H."

1600C/2900F