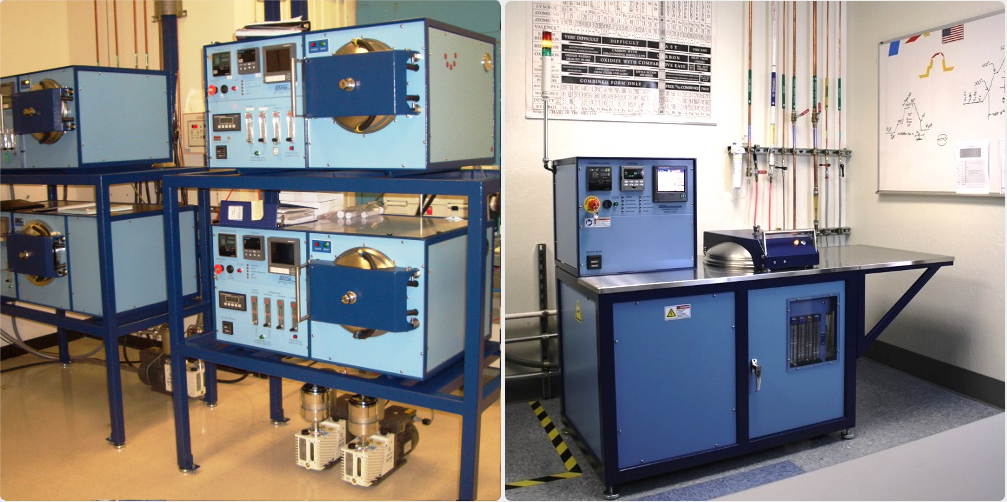 Camco
Hydrogen Furnaces
By operating in hydrogen or any reducing/inert atmosphere up to 2100°C, Camco's positive pressure coldwall furnaces are an ideal solution to many high temperature processes that require an oxygen-free environment. Easily and reliably ramp up to desired temperature in minutes or days, depending on your requirements. A standard, programmable "bubbler" can be used for creating wet hydrogen to further aid in removing hydrocarbon contaminants when a dry atmosphere is not required. Additionally, optional heated bubblers and dewpoint monitors can be used to easily achieve and control the higher dewpoints necessary for metalizing ceramics. Most of our models will roll through a standard interior door frame with little to no deconstruction. All our furnaces are fully automatic. One button push performs:

→ Purge (displace atmosphere inside chamber with nitrogen)
→ Process gas fill
→ Bubbler for humidification of process gas
→ PID controlled ramp(s) to target temperature
→ Soak
→ Cooldown
→ Post purge (displace process gas inside chamber with nitrogen for safe opening)

Hydrogen furnaces offer a lower cost alternative to high-vacuum furnaces if the process can allow for it. They are self cleaning, inexpensive to run and maintain, and process cooling in hydrogen is quick and controllable. Though built specifically to run safely in a hydrogen atmosphere, these furnaces can just as easily run in any inert or reducing gas type such as argon, nitrogen, forming gas (dissociated ammonia), helium, or any combination.


Request a Quote Today »